Are you dating a Sagittarius man or do you have your eye on one? Perhaps you're looking for a way to impress him or make his feelings for you even stronger. Whatever the case may be, you could probably use some help. 
Luckily for you, I know exactly what types of gifts will make a Sagittarius appreciate you. With these, his feelings may grow stronger for you, he might even ask you out (if he hasn't already!). Keep reading to learn the perfect gifts to get for a Sagittarius man. 
5 Perfect Gifts to Get A Sagittarius Man
1. Traveling Gear
Sagittarius man loves to travel and go adventures. You might think to get him something he can carry his bag in or something he can take with him. This could be suitcases, personal care bags, maps, compasses, etc.
If you know he's going to be headed to a different climate, you could get him clothing that will be more geared toward that environment. If he's going to a colder climate, get him a coat or some warm layered clothes.
If he's going somewhere hot, consider swim trunks or sleeveless shirts he can wear on his trip. You can always find something that involves travelling or going on an adventure.
Sagittarius man craves and loves being somewhere new. You could even buy him a ticket to fly out somewhere special then send him packing with the gear you bought him. 
If you don't want to spend such big bucks, you can still buy him practical gifts that he'll absolutely adore. You can go to the camping section of any department store and pick him up a few camping gear essentials.
Even if he already has one of what you got, he'll love that you thought of him and he'll probably tell you he'll make use of it or that he can always use two of that item.
Honestly he really is easy to please when it comes to gifts and when you think of his desire for travel or being in the great outdoors, you can absolutely make him feel special.
2. Musical Gifts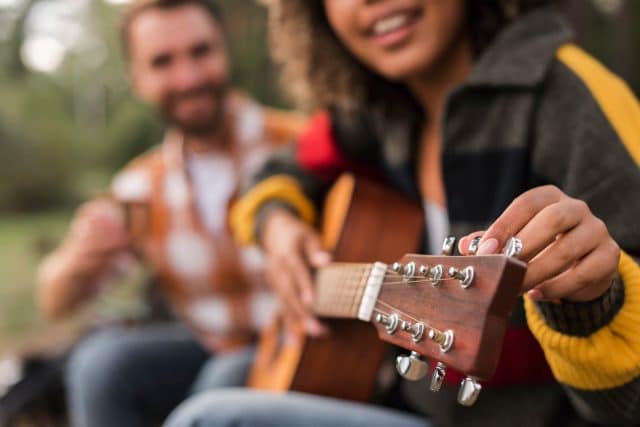 Most Sagittarius men really love music. If you aren't quite sure what type of music he likes or his favorite bands, you can simply get him a gift card for a music store where he can buy what he likes.
Naturally, most people do this online nowadays but you can get the actual cards at grocery stores or department stores that he can cash in online. You can send an electronic card as well.
If he plays an instrument, you can get him supplies to clean and care for his instruments. It's a very thoughtful gift that he'll be most grateful for.
The fact that you care will make him feel great. You can get him guitar strings, cables, pedals, etc. Depending what he has, you can just go to the store and get supplies to match it.
You can also get things that help facilitate his love for music, such as the latest noise cancelling headphones, airpods, or other earphones that allow your guy to listen to his music when he's on the go or sitting around relaxing.
Perhaps you can get him new speakers or something similar. A sound system upgrade is something he would definitely appreciate and enjoy! You can do a little of your own research to figure out if he needs them or not. 
Even getting him a portable speaker he can take with him on trips will be nice as well. Bluetooth speakers are awesome and very popular, especially if they are waterproof so he can take them camping or kayaking!
3. Gift Cards
The Sagittarius man loves to shop, as does his female by his side. Generally, Sagittarians love to get out there and look at fun stuff, things that they need, or mostly, things that they want.
There is absolutely no harm in figuring out where your guy likes to do most of his shopping and send him with a gift card to buy whatever he may want! He doesn't turn his nose up at gift cards.
Really, he is always grateful for any gift at all, but when he can buy what he wants, he's thrilled! He will have a brilliant time shopping, knowing you gave him the funds to do it.
On that note, you can also just give him cash or a check. He'll gladly take those and feel you're being considerate and loving. Some people think that method is cold or thoughtless but Sagittarius man thinks it's amazing. 
He will never turn down a gift like this. In fact, it's sometimes better that you give him the money or take him shopping to get him what he wants. He'd rather pick something out himself.
Food gift cards are good too! If you know his favorite places, you can get him gift cards or you can plan a date to take him there. Surprise him with reservations if you can. 
The man loves gifts of all sorts so it's hard to fail, really. He loves food, he loves shopping, he loves music, he loves beautiful fragrances, and he loves to look good. Anything that caters to his desires will please him greatly.
4. Spiritual Gifts
If you know what his spiritual belief system is, you can buy items that will contribute to his passion. If he's new age, you can send him to have Reiki healing, a reading (tarot, astrology), or a massage.
You can also get a gift card for his favorite shop where he can buy his own oils, oil diffuser, incense, etc. If he's of another belief system, you can still purchase things that go along those lines.
Sagittarius is often very serious about what he believes in his spirit. So much so, that if you are to buy him a gift that appreciates it, he will absolutely think you are a wonderful human being.
You can buy him books, you can buy him candles, or whatever you think that would fit his belief system. He will think you are so sweet and respectful of what he believes that he'll want to be closer to you.
If he's into Astrology you can either get him a reading or you can buy him the latest and greatest astrology software so he can learn more. If he's of another faith or belief then there are definitely CDs, movies, or something similar that applies.
5. Books, Kindles, or iPad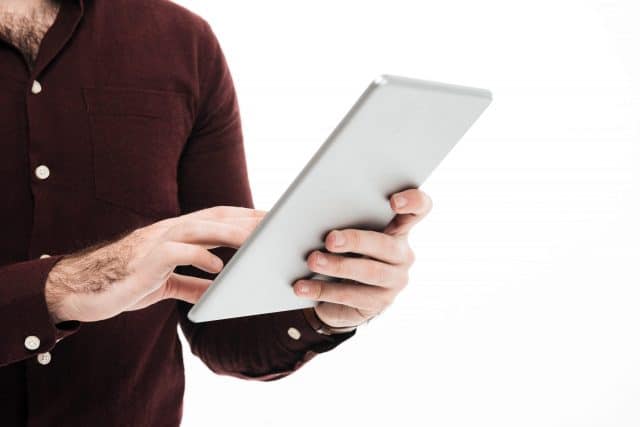 Sagittarius men normally like technology as much as the next guy. He will love gifts for gaming such as a gaming system or actual video games. If he's into books like many Sag men, he will appreciate a gift card for books.
An iPad or other notebook that he can read electronic books would be good choice as well. He loves to learn and he's excited to explore new things. He can play games on tablets as well.
You can also get him a new phone as per his favorite brand if you can afford it. If you cannot, you can also get him a gift card that would pay for a month or two of his cell phone bill.
I cannot stress this enough… a Sagittarius will be grateful for anything he receives, but the things I've listed will stand out to him and they will put you in his favor. This can mean asking you out or getting closer to you. 
When he sees you pay attention to what he likes and you are aware of what he wants, you'll score big with this guy. He looks for a woman that supports him and will be optimistic about his desires. 
Read next: Sagittarius Man in Love Behavior – Is he Childish or Hard to Read?
Oh, And by the Way…
If you know how much Sagittarius men love sex and love to have fun with it, you might try a sexy gift. Consider buying him a game that the two of you can play together, such as sexy dice. 
When you roll these dice, they will tell you what you can do to your partner, such as 'kiss' or 'lick' and then the other dice says where to do so. You can imagine how much fun this would be, right? 
He loves to play and if you're already dating him then this may very well bring you two closer in an intimate way. I totally and completely vote for this option if you are already with your Sagittarius guy.
I wouldn't do this unless you are seeing him though, because he would probably take it to mean that you're alright being friends with benefits. If you're not down with that, then it's not a good idea to start down that road. 
Be sensible and just give your guy something he really likes and will appreciate, plus he will see you as being considerate or thoughtful. 
Speaking of the happy-go-lucky adventurous guy, did you know that oh so sexy super star quarterback Russell Wilson is a Sagittarius? So is Aaron Rodgers! 
Did you find a gift that works really well with a Sagittarius that I didn't mention? I'd love to hear about it! 
Share your story (or situation) with our community in the comment section below (don't worry, it's anonymous).
And if you're wondering how compatible you are with this sexy Sag, take my free compatibility quiz here.
Sending you all the luck in the universe.
Your friend and Relationship Astrologer,
Anna Kovach
---
---