Hello, my darlings! How was the big night of the New Year? Tell me all about it down below – but first, let's focus on the Sagittarius man's forecast and see what this new month is all about, shall we? 
The first week of January is somewhat of a rollercoaster for the Sagittarius man. At the very start of the month, he'll have a lot to do, and he won't enjoy it, not one bit. This is why he might ignore you for a while. If you decide to forgive him, you might end up going on a very fun date, just saying… 
The second week offers a lot of opportunities for him to hang out and have fun at cocktail parties and other social events. This week is good for networking, spreading the net to catch more clients, and being seen together. 
The third week is sort of a downer-upper; at the beginning of the week, he'll be down and withdrawn, whereas towards the end of the week, his libido will kick in like Viagra, and he'll be up for some serious fun, and games. 
The fourth week offers ample opportunity for the Sagittarius man to up his verbal game, and learn how to express his emotions in a proper manner. It's also going to be a kinky time towards the end of the month, so make your preparations if you had something wicked planned.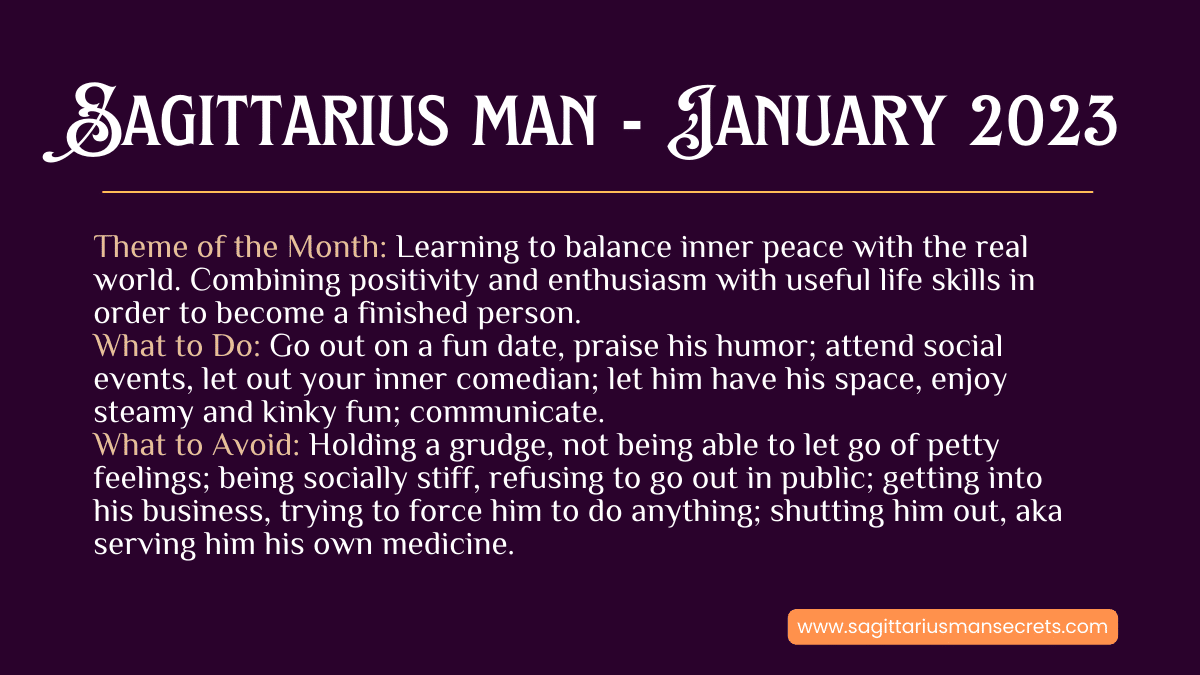 Theme Of The Month: Learning to balance inner peace with the real world. Combining positivity and enthusiasm with useful life skills in order to become a finished person. 
Magic Phrase: Getting serious about certain things doesn't have to involve being serious all the time, you can still crack jokes and act silly, just do the (hard) work and show up, and that's it. 
Text Magic: Babe, what do you think about us hanging out, but at the same time, I help you do your finances and then I reward you for being a good student? 
What to Do: Go out on a fun date, praise his humor; attend social events, let out your inner comedian; let him have his space, enjoy steamy and kinky fun; communicate. 
What to Avoid: Holding a grudge, not being able to let go of petty feelings; being socially stiff, refusing to go out in public; getting into his business, trying to force him to do anything; shutting him out, aka serving him his own medicine. 
Access Sagittarius Man's Horoscope here –> Sagittarius Man Secrets 2023
A Case of the Zoomies
During the beginning of the first week, the Sagittarius man's focus will be on his daily routines, job, and chores, and there are going to be some upheavals on his mundane level of existence, so prepare for him ghosting you often, or forgetting plans you've made. 
However, worry not, because as soon as the Moon passes into his seventh house, he'll make it up to you by focusing all of his attention, mind tricks, and humor on you. You can expect to be called out on a date, and it's up to you whether you want to forgive him for ghosting you with a smile, or you want to try and make him work for that forgiveness. 
Either way, the Sagittarius man will want to spend time with you and make you laugh during the middle of the first week. You can go out to a stand-up comedy night, to an illusion museum, or simply stay at home and watch some proper comedies (like the iconic Scary Movies). 
At the very end of the week, on the 6th, there's going to be a Full Moon in Cancer, in his eighth house of sex, intimacy, and secrets, and this lunation makes an opposition with the Sun and Mercury in his second house. So his finances and inability to save money might rise up as a challenge in your relationship, or at least as a sensitive topic in conversation. 
I Don't Mind Being The Center Of Attention
The second week casts a focus on his philosophical views, so he might get preachy or abstract at the beginning of the second week. Bear with him… these conversations might actually paint YOU in a good light.
If you're able to hold your own in his imaginary debates, and you give sound and logical arguments, he'll be forced to take your opinions opposite of granted, and you might get to know a more solemn and serious side of him… 
The rest of the week will be colored with public and social events, and he'll have fun attending them. Now might be a good time for you to show up with him on your arm, and showcase the fact that your humor doesn't hold a candle to his. 
Light those social events like trailblazers, laugh, make others laugh, drink good wine and enjoy your time. This week is good for networking and spreading the net where you amass your clients. Especially if you're in the beauty or fashion industry. 
Running Wild Again
The third week offers space for introspection and intimacy. The Sagittarius man is not particularly good at digging into the subconsciousness and showcasing his deepest, darkest emotions. Although these types of activities might be more than good for him, necessary even, no one has gotten anywhere with the Sagittarius man when they've tried to force him to do something. 
If he digs in his heels, it's over. This is why this week he might ghost again, retreat to his cave of solitude in order to storm this transition out. You can join him if you promise not to ask uncomfortable questions and leave him in peace when he's not in a talkative mood. 
As the Moon moves to his first house and makes a hefty trine with Jupiter in Aries, it's showtime – his libido will be at an all-time high this month, and he'll want to share the good news with you. 
Once again you're in juxtaposition – do you ghost him right back, or do you forgive him and enjoy the next couple of very steamy and frisky nights with him? It's up to you. 
Aquarius Super New Moon
The final week starts off with a Super New Moon in Aquarius, and this takes place in the Sagittarius man's third house of communication, commute, neighbors, and siblings. This is a good time for him to spend some time with his friends, and to host a barbeque for his siblings and family. 
This is also a very potent time for him to upgrade his romantic communication skills, and to start sharing with you what bothers him, without the fear of being vulnerable or looked down upon. 
This is a great week to break the ice with stand-up comedy, or some similar project, and to achieve great success. If you notice that he's struggling with self-confidence and he's doubting himself, and his own success, give him a little push and let him simmer for a bit. 
At the very end of the month, once again his mood will be romantically focused, and that can be your chance to grab his attention once and for all, it's up to you, doll. 
Final Thoughts 
And there you have it, my explorers, the Sagittarius man's predictions at the palm of your hand. Make sure to keep that palm open if you want the Sagittarius man to return to you, willingly, every now and then, and as time goes on, even more often.  
The Sagittarius man is a special guy when it comes to personal boundaries and romantic freedom, and since you're drawn to him, it must mean you're not entirely different. This month it's a good idea to forgive his ghosting and to give him his space when he needs it. 
Stay positive and make sure to hold your own in philosophical debates!
Three rare transits in 2023 will shake him up heavily but also offer you an incredibly powerful opportunity to make your bond with him stronger than ever…
These planetary transits will play with his subconscious, and he won't even be able to grasp why he's suddenly feeling different.
That's why you need to understand what's happening inside of him and know how to position yourself through the different phases your Sagittarius man will go through in 2023.
When you align with his subconscious needs, he'll have no other option but see you as the only woman that ever got him.
Want to be the only woman he ever needed? In his most challenging, but also in his most fun and beneficial times?
Then make sure you go ahead and grab the opportunity to prepare for 2023 on time. Check what I've prepared for you in the link below.
–> Make Your Bond With Sagittarius Man Stronger Than Ever in 2023
Stay creative, free of mind, and free of spirit. Until next time, my darlings.
Love and light,
Anna Kovach
---
---