Hello Sweetheart, are you interested to know what April is going to be like for Sagittarius Man? Welcome to this reading, can't wait to get started.
April is an expansive and exciting month when Sagittarius guy should embrace adventure and challenge himself.
In long-term relationships, things are pleasantly stable, although you may need to ensure you get the support you need by being vocal and assertive about maintaining the balance of give and take.
It's a fabulous month for dating and meeting Sagittarius guy
Eclipse in Aries 19th April
This eclipse occurs on the edge of his fifth and sixth solar houses.
This month he has great mental focus, and he has the inner strength and fortitude to sustain himself even in highly complex and dynamic situations.
He's incredibly competitive this month, and it's vital that he uses this opportunity to shift the dial by pursuing important goals that will make a big difference in his life. If he's passive, he can be a handful to deal with due to the frustrated energies.
This April he has a huge opportunity to excel at sports events, he can also improve his mental and physical health through both diet and new fitness regimes, this is great if you share an interest in adventure, and outdoorsy activity.
It's an ideal month for you both to explore possibilities and seek out new opportunities, even if these require great inner strength, as he has the ability to remain calm and strong even when he is up against it.
Sun Conjunct Jupiter in Aries – 11 April
This is a magical month for romance. He's feeling pretty cool and giving off a highly engaging vibe, and this helps make him attractive to women and easy to hook up with.
Within his soul, there's an irrepressible desire burning, and the intense feelings are conducive to him encountering a special woman with whom he can enter a strong and physically passionate relationship.
However, the flip side is that the intensity of feeling can express itself in jealousy and sudden arguments.
Mercury is retrograde in Taurus from the 21st of April
The Mercury retrograde falls in his solar sixth house, so after 21st of April is not an ideal time for him to change jobs, hire or fire staff, or go on training courses. It's very important to encourage him be clear and concise in communications with either his employees or his colleagues.
Hasty communication that's ill-conceived causes problems. It's very easy for wires to get crossed or for everyone to land on a different page. This is not a time when he can afford to be careless and make assumptions.
After the 21st, he must pay extra attention to sending out memos or reminders, putting up notices on the office board and chasing people up, because it's highly likely that deadlines can be missed and things can go haywire.
Post the 21st is not ideal for brand new job applications, and even if he is feeling a little bit dissatisfied within his career, it's probably best for him to stay where he is and see how things go until week two of May.
Mercury Conjunct Uranus in Taurus
New technology is a must when it comes to his work and he'll have to be quite open-minded about introducing new technology. He may need to go on a training course, and there could be a steep learning curve involved when it comes to technology, so reinforce his intellectual confidence.
Bear in mind that there may be adjustments and changes at his office, which will affect the way he works or his routines and work-life balance.
There should be some excitement this month within his work sphere, which will reinvigorate his motivation. It's highly likely that he will get to work with some different people who are a little bit quirky and unusual, and thus your enthusiasm for his job could return, that's not the same as saying he's romantically attracted to a new colleague.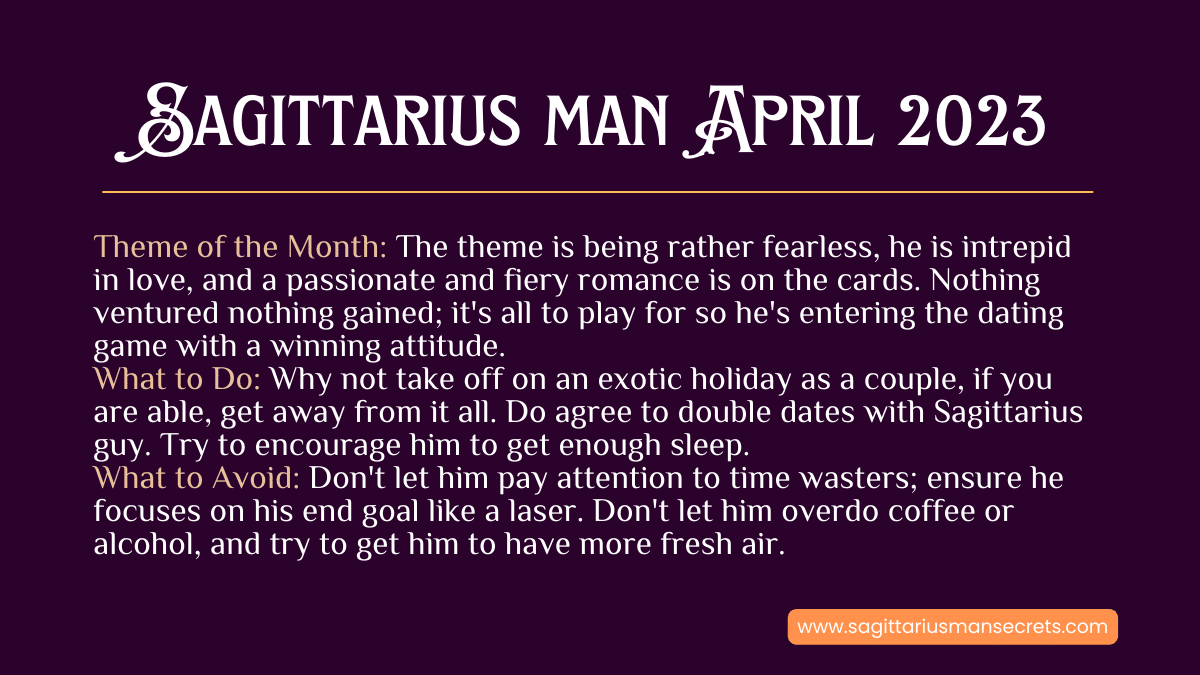 Theme of the Month : The theme is being rather fearless, he is intrepid in love, and a passionate and fiery romance is on the cards. Nothing ventured nothing gained; it's all to play for so he's entering the dating game with a winning attitude.
Magic Phrase: "You are a winner and I always believe you will come out on top."
Text Magic: "I'm going to show you things you've never seen before."
Do: He's more likely to engage in sports, and he'll look to meet potential partners who share his competitive and outdoorsy spirit.
Why not take off on an exotic holiday as a couple, if you are able, get away from it all. Do agree to double dates with Sagittarius guy.
He's lucky when he enters competitions and so support him in these ventures.
Try to encourage him to get enough sleep.
Avoid: Don't let him pay attention to time wasters; ensure he focuses on his end goal like a laser.
Don't let him overdo coffee or alcohol, and try to get him to have more fresh air.
Access Sagittarius Man's Horoscope here –> Sagittarius Man Secrets 2023
Week One – Hectic
This is quite a hectic week, there are a lot of balls to juggle, and things are coming at him at a rate of knots, so this week it's very important for him to keep the work-life balance in proportion. Let him know when to step away and have a total break.
There are times this week when technology and information can get him down, so it's good for you both to get outside, feel the grass, feel the sun in your hair and do things that get you both in touch with the natural world and away from technology, just so that you can have that mental breather because otherwise, this week can be quite stressful.
Know when to turn the phones off, because work colleagues can be very demanding and he may get a lot of calls out of hours which disrupt your family time.
Week Two – Center Stage
This is a good week for him to be showcasing his ideas or putting himself out there, as even if he attracts criticism, his resilience will ensure he learns quickly and doesn't take any pushback seriously. So, don't worry, whatever he does, he'll land on his feet.
He's quite fearless about speaking his mind, but he should limit that to the workplace as in love he does need to be more diplomatic. So don't let him get away with being too blunt with you.
Week two of April is an optimistic time for Sagittarius guy, but it's also a time when he needs something to fill the gap in his spiritual life, and thus a return to faith or more emphasis on the spiritual dimension in life can be very beneficial to him.
This is a wonderful time for you and Sagittarius guy to read books on philosophy, or maybe to join cultural/support groups where there are discussions about mindfulness, the meaning of life etc.
This is important because, while things are rather good in many aspects of life, you have this nagging feeling that something is missing, and what is missing right now is a touch of faith to just give an added perspective, purpose and meaning to your life.
Week Three – Stalwart
While his adventurous, free-spirited, globetrotting Sagittarius nature is activated this week, he is not reckless, he is a very patient, and he doesn't want or need to accomplish everything overnight.
When he puts his mind to something, he plans to perfection, and his fearlessness means that he should have no issues finding the right path ahead.
This is a wonderful time for long-distance travel and so if you guys are taking time off over the Easter, well done, you've made the right decision and you should get a great deal of benefit from the trip, both in terms of health, well-being and perspective.
In terms of your travels, this can be an important time in your lives to travel with the purposes of finding work or a new location to live.
Week Four – Marriage, Romance and Secrets
It's important for you and Sagittarius guy to be very self-aware this week.
Lies, secrets and meaningless people-pleasing are exposed as authenticity becomes paramount.
There's no time for diplomacy or lengthy debate. You both need to say what you mean, mean what you say and then be decisive.
This is an excellent week to refresh a marriage by speaking your mind and encouraging each other to reveal all. It's time to open up and then look forward to a new phase of greater transparency and more meaningful conversation in your marriage.
He may well find himself in a high-tempo and fiery romance. Love this week is not 'take it or leave it' as intense feelings are likely to develop leading to both a strong relationship and also one that can be prone to outbursts, jealousy or emotional volatility.
There are both pros and cons to any relationship that begins now. The downside is mainly related to you both getting carried away and things moving too quickly, with expectations getting exaggerated.
He's likely to attract a woman with compassion, enthusiasm and inner strength, but she may be quite a handful as she's a person who's easily frustrated or bored. His partner could be extremely opinionated and may overwhelm him with a full on personality. This could well describe you, if you are dating Sagittarius guy.
And there you have it, my darlings, if this hasn't quenched your thirst, you know where to find me, same place, as always.
So, this month is a whirlwind of action. Many important activities will take place, and he has a fantastic opportunity to set his life alight with new adventures through romance and travel.
He can make great progress in terms of his self-awareness and understanding of life, especially if he's studying or traveling.
Encourage him to embrace any opportunity to move beyond his comfort zones and get his adrenaline pumping by doing something totally new.
So have fun, go wild, and I'll see you next time around,
Wishing you love and luck with your Sagittarius Man,
Your sister and relationship astrologer,
Anna Kovach