Are you falling for a Sagittarius man and wondering what you can do to make him feel the same way? Perhaps you're searching for that secret sauce that makes your Sagittarius man OBSESSED with you more than any other woman? So how on Earth do you make a Sagittarius man obsessed with you over text?
Have you ever wondered how to text a Sagittarius man? These guys need to run the show. But there are a few things about a Sagittarius man texting habits that I think will help you create a better relationship with him.
Well, you have to keep in mind that Sagittarius guys are more experiential and prefer face-to-face interactions over texting or the phone. So, this can be a bit of a challenge at times, but he's totally worth it, right? Right!
One thing to also bear in mind about this man is that he tends to text back quickly if he picks up on your message. However, his reply can be short and rushed, sometimes even coming off as insensitive.
These are not flowery types, so don't expect a love letter! Rather rely on when you see him gauge his feelings for you. Here are a few tips on how to attract a Sagittarius man through text.
Should I Text A Sagittarius Man First?
I always find this one of the most difficult questions to answer because all men are different and all Zodiac signs are different as well. But I find when texting a Sagittarius man first, context is the most important.
Although Sagittarius men are free-spirited and fickle, there is a large aspect to their personality that wants to feel desired and admired by someone else, specifically if this person is a woman.
But the last thing you ever want to do with a Sagittarius man is make him feel crowded and overwhelmed which is extremely easy to do if you are always texting him first and not giving him enough space to breathe.
He has one mission on his mind, and that is to live his life independently without feeling like he owes something to someone. You don't want to incessantly text a Sagittarius man, my best advice would be to give him the space to come to you.
He wouldn't want to be with a woman who has so much free time that she is just sitting around waiting to receive a text from him. That shows him that she might be waiting for him to inject excitement into her life and he wants to be with someone who considers her life extremely interesting, without any influence from him.
It is fine to text a Sagittarius man first when the two of you are already in an established relationship. But when the dating game is still afoot, you're going to want to wait for his cues just to be sure that you're not overwhelming him and coming across as desperate.
If you are confused as to when and if you should text a Sagittarius man, then I have just the thing that could help you out. I have a quiz called "Should You Text a Sagittarius Man First."
How To Make A Sagittarius Man Fall In Love With You Over Text
1. Make Him Laugh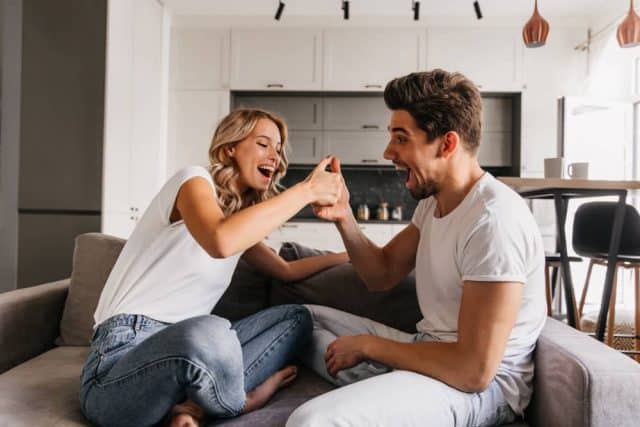 Want to make a Sagittarius man obsessed with you over text? Make him laugh. He loves a good time and wants to spend his time focusing on people who add joy to his life. This man loves nothing more than a good belly chuckle! If he knows that you are that person who is always going to respond with a light-hearted joke, then he's definitely going to want more of you.
This will require a little bit of work, of course. Especially when you first meet and get together. He's got to first learn about your sense of humour. A good idea is to send him funny memes or funny videos, which will have him definitely wanting to get to know you better!
Read next: 7 Obvious Signs A Sagittarius Man Is Falling In Love With You
2. Never, Ever Chase Him – Let Him Chase You
This rule applies to most guys in the Zodiac, but most especially Sagittarius men. He is a fire sign, after all, and like all fire signs, likes to be the masculine energy in the relationship. A Sagittarius man enjoys a chase, in other words.
So, if you want to get him to call and text you first, then just let him! Let him chase you down totally, and if you're feeling anxious, simply continue with your own life. This will not only serve you, making you feel independent and in control, but will communicate those qualities to him, too.
The last thing he wants is to be with a woman who is desperate for his attention. If you keep yourself busy and engaged, then you won't have time to think and obsess about him.
3. Show That You're Fun & Easy-Going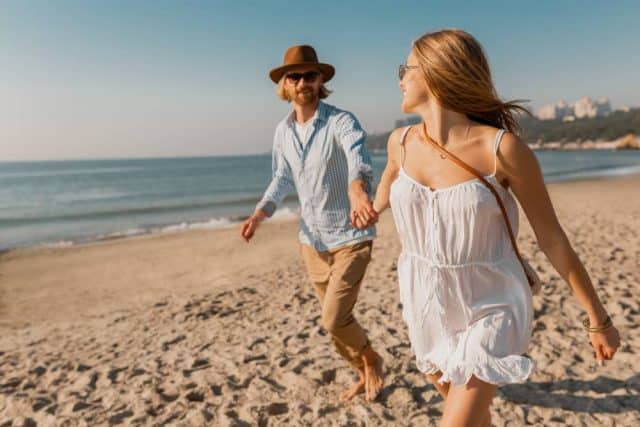 The Sagittarius guy will reach out to you first if he sees that you are fun and easy-going. You can first show this in your message style – for example if he invites you out, you can simply reply something along the lines of: "That sounds awesome! I'm down."
Avoid communicating about heavy or serious things at first. Your focus should be on enjoying yourself – there's plenty of time to get to know each other deeper as time goes on.
When he's sure that conversations with you are going to be fun, your Sagittarius man wll definitely be calling and texting you first.
If you want to master your Sagittarius man's texting style and know what the best texts are to send him, then there is only one thing you should do. Check out my Sagittarius Text Magic Guide. <<
4. Update Your Status Or Picture To Show Off A Good Time
There's nothing a Sagittarius loves more than a great party! If you're in the mood for a bit of a sneaky attempt to get him to call or text you first, then try updating your social media pictures.
Update them specifically to show you dancing, partying an having the best time ever. He won't get jealous, he'll get FOMO. You can also post updates of being out with friends and what a great time you're having, too.
Of course, you don't want to overdo this because the last time a Sagittarius man wants to see is a woman living her life online instead of being in the moment. A Sagittarius man appreciates being present more than anything and wants to be with a woman who knows how to be in the moment.
Just give him a taste of what he is missing out on and wait and see how he is bound to react.
5. Be Philosophical At Times
For all his fun energy, the Sagittarius guy also has a side that's deep, spiritual and philosophical. However, deep doesn't mean emotional. It means looking at life from a more metaphysical perspective.
For example, you might be surprised to learn that many Sagittarius men are extremely spiritual and have tried all kinds of things along the lens of yoga, breathwork, meditation or plant journeys.
Don't be afraid to ask questions, to show your spiritual curiosity and to be philosophical with him. He'll love that you're someone he can bounce his stranger ideas off and have a wise, interesting conversation with. You'll find him fascinating, too, and learn a new side of him.
What Makes A Sagittarius Man Obsessed With You Over Text?
Keeping Things Fun
Sagittarius guys live for fun. If they have to say what the most important things in life were, including what they want in a relationship, it would be to have a good time, all the time.
If you're overly serious, never like going to parties or having spontaneous adventures, well, he may not be the one for you. But if you are open to these things – and not only open, but excited about them – then he's going to chase you, hard.
Being Sexy & Passionate
Sagittarius men have some of the most powerful libidos in the Zodiac. He's sexy, and loves an equally sexy, empowered, and passionate woman. A woman who knows her sex appeal and uses it to enjoy her relationships.
Seducing him is a big way to get him to always chase you down. Just being confident in your attractiveness is more than enough to make him obsessed with you.
Discover the 3-word text that PULLS a Sagittarius back and makes him chase you <<
Always Being Down For Adventure
For a Sagittarius man, adventure is always calling. Faraway lands have his name all over them, as well as local adventures in his own neighborhood.
If you are always up for something new, something fun, then he's definitely going to want to see more of you in his life!
Never Labelling The Relationship
As frustrating as it may be, never labelling the relationship is important. Well, at least not in the beginning, that is. These are not the best types of guys under pressure – their lack of commitment is well-known, but can develop into something more over time.
Try to keep things fun and carefree, for now. he will appreciate that you're not suffocating him, and that will serve to make him come that much closer to you.
Biggest Mistakes Women Make When Texting a Sagittarius Man
Now that you know exactly how to get your Sagittarius man to call and text you, I do have to warn you about one thing.
There are certain texting behaviors that will make a Sagittarius man lose interest in you…
Communicating with a love interest is a very delicate dance (and so much trickier to do over text!) and all it takes is one wrong message to send him walking the other way…
Just to be safe – you need to check out the three big texting "no-no"s you should avoid before you make a mistake that leaves you on reading!
Take a look at the link I have for you below and learn how to avoid the biggest texting mistakes with a Sagittarius man.
>> Discover 3 biggest texting mistakes women make when texting a Sagittarius man.
You won't regret it!
Yours, Anna