What is it that you desire to know about your Sagittarius man? You've just married him or you are thinking of marrying him. What are you missing? What is the "catch" with this seemingly perfect guy?
Just like anyone, he does have flaws and he has good points. There are definitely things you probably have not figure out yet. Keep reading to learn more about what women married to a Sagittarius man should know.
The Kind Of Husband He Is
The Sagittarius man isn't one to rush into marriage. It's hard for him to commit in the first place, so if he has then it means he really does believe, with all his heart, that you are the right one for him!
He's an adventurous husband and will love having date nights often. He will love taking you out and showing you a good time. It's also a great way for him to get out as well, so it's a win/win situation.
He will likely plan trips for you two to go on, or he will suggest them to you to see what you think. He really does love seeing new places and people. Having his wife there with him will make him glow with happiness.
Sagittarius man is attentive to his wife and wants to make her laugh. He will do weird things and crack jokes in order to get her to giggle. He doesn't want her to ever get bored with her because after all, he hates boredom too. 
There is never a dull moment with a Sagittarius husband. He's charming, he's witty, brilliant, and intuitive. He will feel when things aren't right with you, and will try to make you feel better.
Whether that means offering advice, cooking you a meal, or doting on you; he'll do it if it helps you to feel better. Don't ever tell him that you're fine when you're not (because he knows when that's not true!).
He isn't the most domestic of partners though. He doesn't know what it means to be a husband, but he'll do the best he can. He may not pay attention as much as a wife would want but nudging him will get him there.
Sagittarius man isn't a hard head and you can often compromise with him quite easily if there is something you want him to do differently. Simply talk to him and tell him your needs. 
Is The Sagittarius Man A Good Husband?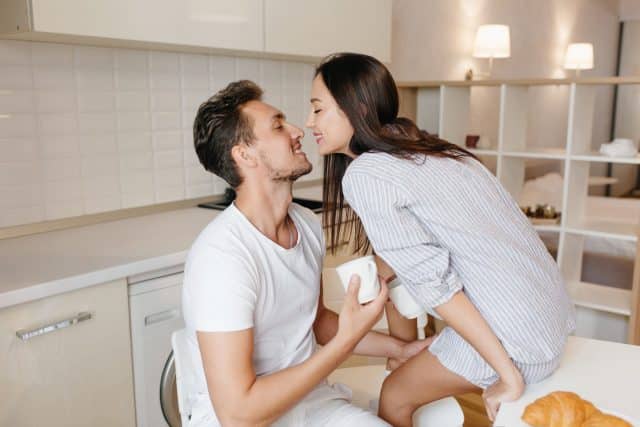 Based on what I've told you so far, I'd say yes. However, there are some areas he may be lacking in and you may want to get his attention so he will fix where he falls short.
He does not like the mundane and so getting household stuff done could be an issue. He will procrastinate, which can cause frustration for his wife who does her part. 
While he may not be the most attentive, he can be rather romantic and giving in his own way. You might get mad at him for him not getting his to-do list done, but he'll surprise you with something that will get you to forget about it (temporarily!).
The Sagittarius man may not be home a whole lot if he's one that travels, or if he has a job that requires him to be on the move. Sagittarius' naturally love to be all over the place rather than at home.
However, there are the rare Sagittarius guys that actually find solace in being home, and may opt to settle down later in life. He can't be on the go all time and he knows this.
While he's young and carefree he will not want to be home as much as possible. It has nothing to do with his partner. It has everything to do with keeping himself busy.
Remember, I did mention he hates boredom. He feels that if he sits still then he's wasting life and is succumbing to the boring mundane things in life. Some find this to be a struggle in a marriage with a Sagittarius.
It will greatly depend on what type of partner you are yourself. If you are easily hurt or a sensitive person, then the Sagittarius man may be a little hard for you handle as a husband.
He is very blunt and this can sometimes hurt other's feelings. It may also make them think he's narcissist, and that he doesn't care when he chooses to go on a trip alone instead of with his wife. 
There are different roads it can go down but ultimately, how your Sagittarius guy is as a husband is also going to be influenced by the type of wife you are. Are you patient and accepting, or are you a stickler for schedules, staying put, etc? 
Compromise is a must. Whether you're about to marry a Sagittarius man or you already have, then you understand you have to absolutely always put everything on the table and talk about things.
That's the only way you two can find a happy medium in which you can both meet, and have that happy Sagittarius man marriage you truly want. 
Pros & Cons Of A Sagittarius Husband
I've already told you some key truths when it comes to being married to a Sagittarius man. There are other things you should be aware of if you're not already. 
Pros Of A Sagittarius Husband:
Will always keep you amused. 
Keeps up the excitement between you two.
Loves taking you on trips. 
Loyal when he finally commits.
Optimistic with life and love.
Open-minded and spontaneous.
Cons Of A Sagittarius Husband:
Can be impatient and gloomy if he has to wait.
Doesn't like being held back or down.
Doesn't like commitment until he has to.
Will travel with or without his partner.
May take a job that often takes him away.
Doesn't spend as much time at home as his partner.
May not want to take care of household chores.
He seemingly doesn't want to be home much.
Doesn't like to be limited or told what to do.
This only scratches the surface of the depth the Sagittarius man actually has. The good thing is, he will compromise when he loves you. He will want to make you happy and find a way that it works for you both.
He's incredible at coming up with novel ideas that maybe no one has thought of. He has solutions that are unique and work really well. When he has an idea as shares it with you, humor him.
Who knows, it may be an idea that makes your marriage very successful, loving, warm, and everything you could want it to be. There is always wiggle room and since he's so optimistic, when you approach him with a positive attitude, he'll be accepting. 
A Sagittarius husband can be a very successful one if given the chance. It may take work, it may take compromise, and it may be frustrating getting there but if you truly love him, you'll do what it takes to stick with him.
Show him how much you love him and give him the benefit of the doubt when things aren't going as well as you'd like. Always open up to him and tell him what you feel and what you want.
Read next: Outstanding Facts about Sagittarius Man You Didn't Know
Final Thoughts
A Sagittarius man can be an excellent husband if he's ready to be one. If he isn't, then there will be conflict and he may want to break free. There is always hope though and he carries it with him at all times.
He wants success, he wants to be happy, and he wants to feel free all at the same time. If you can find a way to be with him in harmony and give him a bit of freedom, he'll be a happy guy with you.
You don't have to have an open marriage or anything like that. Just let him go spend time alone with himself or his friends. Find a compromise that works for you both and start adhering to it.
Talk about things all the time. Don't let upsets fall by the wayside. You've got to speak up and tell him what's going on and when something is wrong. He needs to know if he's going to fix it.
Some think that because Sagittarius is empathetic that he should know what is wrong and what to do. But the truth is, he's not a mind reader and if he has no idea, he cannot fix what needs help.
Speaking of truth, did you know that it's totally true that handsome talented writer and actor Brad Pitt is a Sagittarius? Yep! It's totally the truth. 
Did you marry a Sagittarius man and learned things you didn't read about beforehand? Tell me what it was you learned. I'd love to hear all about it. 
Share your story (or situation) with our community in the comment section below (don't worry, it's anonymous).
And check out my Sagittarius Man Secrets, to find out more about this thoughtful and adventurous man.
Wishing you all the luck of the universe.
Your friend and Relationship Astrologer,
Anna Kovach
---
---