Are you a Cancer woman trying to figure out what the Sagittarius man will like in bed? Perhaps you want to learn something new to please him well. You might want to keep reading for some really interesting information on the Sagittarius man and Cancer woman in bed.
The Basics of Sagittarius Man and Cancer Woman
To be as candid as I can, this isn't the best match. While they may be initially physically attracted to each other by their outer beauty, it's not enough to sustain much more than a temporary relationship.
Sexually they may try to even have a fling which may seem like a good idea but it will fizzle out with time if they aren't careful. This union would take a great deal of work to be long term sexually or as a love relationship.
They enjoy talking and in the beginning the Sagittarius man doesn't mind making the Cancer woman feel good and comfortable. However, when he starts talking to her further, he starts telling her things that she probably could go without hearing.
He is so truthful it's sometimes painful and Cancer woman finds it hard to cope with him telling her things flat out. Even in bed, he is up for just about anything and she will want more of an emotional connection.
Sagittarius man loves sex for the value of being physical and having a good time or an adventure. I'm not saying that this isn't a possible match but I'm saying it's not the best either.
While these two have capability they have to both really want to work on it and they really are sort of opposite in personality. They have some things in common but not enough to find true long lasting bonding.
Sagittarius Man and Cancer Woman In the Bedroom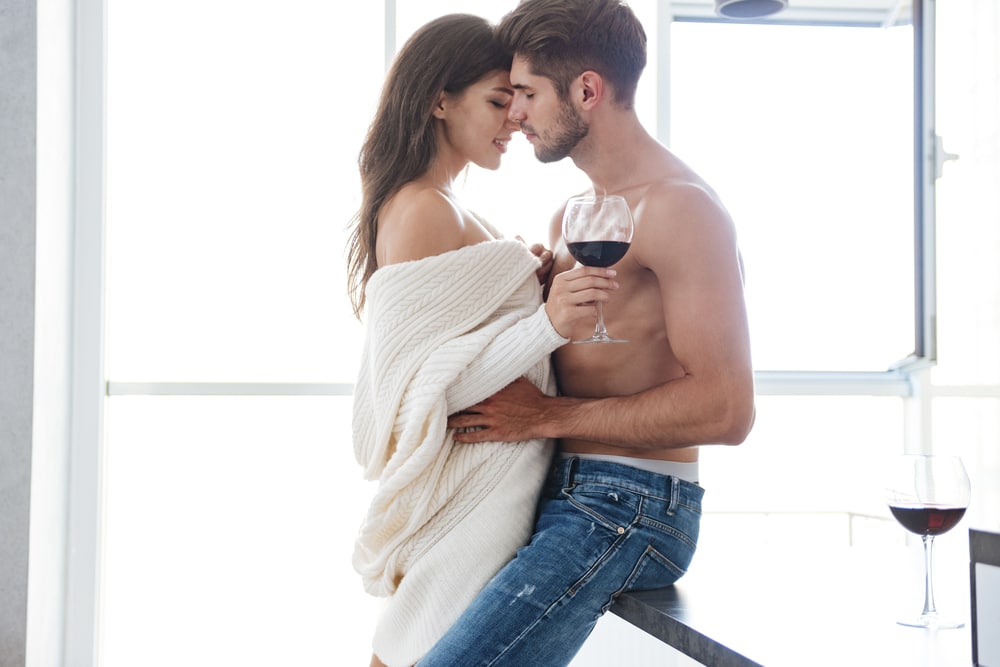 If you are a Cancer woman and you really do want to make it work with your Sagittarius guy. There are some things you can try to do with him or for him in the bedroom. This will work even if you're only having a casual fling as well.
Sagittarius man is always up for fun. If you are willing to put your "feelings" on the back burner and just do what is exciting and different than your norm, you might find him to be quite responsive.
If you're looking for him to find some sort of emotional bonding through sex, this is where you may be a bit disappointed. He is spiritual and he cares but for him, sex is just fun and release.
He's very physical and loves having a good ole romp in the hay. He's not picky about how sex is done but he definitely isn't going to have that emotional or spiritual pull that you as a Cancer woman would want to feel secure.
If you're just having a fling with him and aren't expecting feelings then you might be alright. Suggest playful sex, wear costumes or sexy lingerie. Ask him to try new toys with you or take him to a strip club to let him get all worked up.
This will make him take out all his build up an aggression with you which could be highly beneficial not to mention he'd be impressed you'd go through all that just to please him. He'll love it.
The Sagittarius man wants to have as much excitement as possible and this is especially true when it comes to sex. Make it adventurous, sexy, and delicious. This could lure him in to want more.
When you're trying to lead him from sex to something more fulfilling, you'll need to show him other ways that you'd fit into his life such as going places with him, travelling, doing new things, trying new places, and being open for change.
Be spontaneous with the Sagittarius man. Go with the flow and either you can take the lead and show him what you want or you can tell him what you want and let him try to dazzle you in the bedroom. It's your choice. He's willing to do whatever.
What Else The Sagittarius Man Likes Sexually
You can work at appealing to his erogenous zone if you're trying to seduce him. This would be his inner thigh. Gently kiss him and caress his thigh with your hand. The closer you get to his crotch area, the more turned on he'll get.
When you do have sex, try to do various positions. He gets bored doing it the same way every time. He needs variety. Switch it up and try looking up some interesting new sex positions in the Kama Sutra if you need to.
Don't worry about whether or not he'll have a one night stand with you because the answer is… most likely. If that's all you want then he may be up for it if you can successfully turn him on enough.
Sagittarius is free spirited and even though he's looking for "the one" just like everyone else, he's up for a bit of fun along the way. Keep that in mind for if you ever want to commit with him.
He will need you to show him that you're the right one otherwise he's going to just have fun with you regarding sex and then leave it at that. Be very careful of your intention when you decide to hook up with him.
Try having lots of foreplay with him. That will definitely get him revved up. He wants sex to be somewhat athletic and exercise. I mean that in the way that he likes to go all out and make it last.
Doing multiple positions during sex will definitely make him have optimal pleasure. If there is something you need from him, tell him. It will turn him on and he'll be more than happy to do it.
He likes being kinky and exert lots of energy into having fun. If you can go with the flow, you'll enjoy yourself as well.
Have you as a Cancer woman successfully seduced a Sagittarius man? How did you do it? Share your story with me!
If you want to better understand how compatible are Sagittarius man and Cancer woman in bed, click here and learn everything there is about this interesting combination.
Share your story (or situation) with our community in the comment section below (don't worry, it's anonymous).
Wishing you all the luck of the universe
Your friend and Relationship Astrologer,
Anna Kovach
---
---