Are you dating a Sagittarius man but not sure what to expect with him sexually? Perhaps you're interested in a friend and curious what sex would be like with him. Either way, keep reading for what it's like regarding Sagittarius man sex.
Learning New Things
The Sagittarius is an adventurous soul who is always looking for his next grand experience. He seeks excitement and part of this includes learning new ways to approach sex.
He's the type that wants to learn lots of different positions to have sex in that he hasn't tried before, ways to please his partner, role play, or any other avenue he hasn't yet tried.
He'll read the Kama Sutra as a way to educate himself and to help keep his sex life alive as well as enthralling. Whether he has a partner or not, he'll go ahead and stay brushed up on his knowledge.
The Sagittarius guy wants to be a sponge when it comes to learning the ins and outs of sexual ecstasy. For him, it's a whole lot of fun to learn new things and experience levels of sexuality he's never reached before.
This man isn't one for dull and boring missionary position. The older he gets the more he gravitates to the familiar but when he's younger, he wants to try it all. He'll give just about anything a try once as long as he has a willing partner.
In fact, he will want a partner who will love to try new things and learn. He wants someone who is open to be different and have fun with it. The Sagittarius man has a bad rep that isn't well deserved.
There are plenty of books or websites that peg the Sagittarius man to be the type to jump from one woman to the next but the truth is, he wants to find the right person who will be "the one" and enjoys himself along the way.
He's not promiscuous in the way that he just wants to sleep with everyone. That is a myth. I'm not saying they don't exist but most Sagittarius men are actually looking for true love.
Until they find it, they'll have fun and enjoy the company of whoever wants to share company with him. I will say this, they are also picky. They don't just dive into bed with anyone. They also despite popular belief; do not want to sleep with everyone. That's simply untrue.
Not Spiritually Sexual
Some people want to connect on a super deep level spiritually when they have intercourse. Sagittarius doesn't look at sex this way. They want to have fun and enjoy themselves. They want their partner to have fun as well.
They're about pleasure and ecstasy. They aren't over thinking things or thinking about the deep connection that others may want to achieve. I'm not saying he's shallow, I'm saying he wants to enjoy himself instead of over think things.
Enjoyment and entertainment are more his speed than thinking about how physically and emotionally he's tied to someone. It just doesn't cross his mind. It might when things become very serious but until that point, it's just a joy-filled experience for him.
If you love a Sagittarius man and don't understand why he doesn't look at sex as a transcendental experience, this is the reason. He just doesn't dig that deep. He enjoys the surface pleasure.
Never a Dull Moment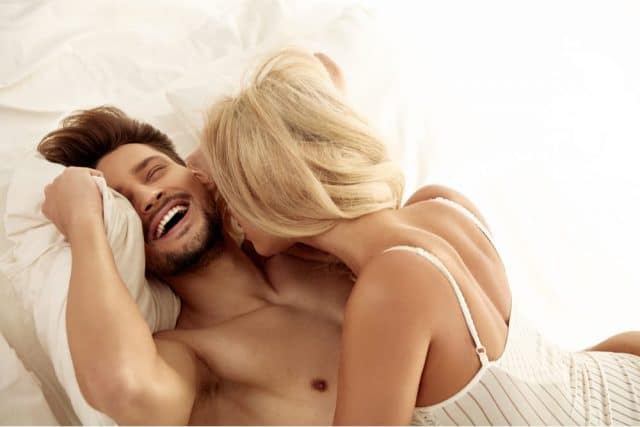 Something else interesting about Sagittarius man is that he doesn't ever get bored with sex. If you insist on doing the same position every single time over a long stretch, he may start to feel less satisfied.
This is why it's important to keep things fresh, new, and exciting. Try new positions, try foods or desserts that are yummy that can be used for sexual play, try toys, or even try porn.
No matter what you're into or want to try, he'll probably be on board to do it at least once. He may not want to keep doing it but he'll at least give it a whirl to see if it's something he'd like to do again.
Sagittarius man likes having sex often. He doesn't have the highest libidos out of all the signs but he is way up there though. I'd say that out of a 1 to 10, he'd be about an 8. He really enjoys it and wants to do it often.
Read next: How to Seduce a Sagittarius Man Sexually – Here's What to Do
Touching and Caressing
The Sagittarius man loves to give and receive erotic massages. He's more than willing to give you a pleasurable massage to get you started as long as you're willing to give to him as well. For him it's an equal setting.
Lots of kissing, using tongue on body parts and tasting each other is a huge turn on for him. If you're not yet ready to have intercourse yet, he'll definitely be up for "dry" humping too.
He'll likely be able to orgasm without having actual intercourse. It'll be quite a thrill for him as well. Something else to keep in mind is he loves having sex outdoors.
He would even participate in sex that's in public places such as a busy parking lot, a busy camping park, or other areas where you could get caught any moment. He thinks it's invigorating and will love it if you surprise him with it.
The Sagittarius man is one of the most adventurous in bed you could ever experience. He's not as promiscuous as some other websites will have you believe. He's actually choosey and means well.
The difference with him is if he has a partnership that fails, he's not afraid to dive into a new one which makes him look either desperate or that he's not really that serious. He's always looking for "the one" though.
Other people judge him incorrectly and feel that he should have significant time between partners. He lives life one day at a time and knows that tomorrow isn't always promised therefore it's time to live for right now.
Share your story (or situation) with our community in the comment section below (don't worry, it's anonymous).
Wishing you all the luck of the universe
Your friend and Relationship Astrologer,
Anna Kovach
---
---